I may never have the opportunity to go on a cruise again, but I will always be able to treasure the memories of our trip to Alaska, a wondrous week of sailing with my husband, Cliff.
I am one who longs for the ocean. I cannot really describe why I have this vacuum in my soul that can only be filled when I spend time at the sea, but there is something about the ocean's vastness, accompanied by the constant movement of water – sometimes a gentle swelling and other times a crashing frothing frenzy – that stills my emotions. It is therefore not surprising that I loved cruising on the ocean for seven glorious days.
I cannot compare Alaska with other cruise destinations, as this was our first and only cruise, but I have heard from several travellers that the sail to Alaska was their favourite. Perhaps our experiences, listed in the travelogue below, are reasons many others prefer this cruise above all others.
Nieuw Amsterdam Ship on the Holland America Cruise Line
We had no idea which cruise company to pick, and so trusted the guidance of our travel agent, Suzanne Wickenden. On a past occasion, I had found Suzanne to be patient and considerate of my numerous questions, and so I did not hesitate to call her again. We would highly recommend her fantastic service: she can be contacted at [email protected].
Suzanne was able to find a great last-minute deal on the Nieuw Amsterdam, a clean and comfortable ship. We were very satisfied the high standard of service and comfort on the Holland America Cruise Line.
The cruise passengers were a great cross-section of all ages, and for those who care, most were adults. The vessel did not seem overly crowded, and we could be alone or with people as we chose.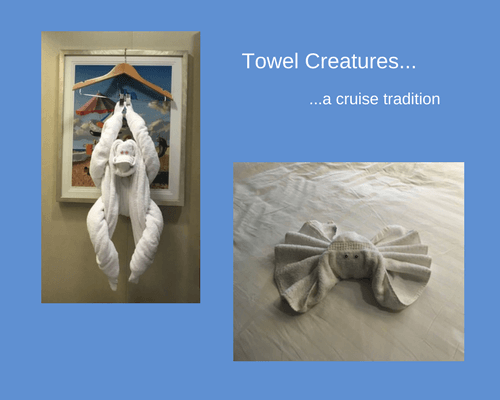 We appreciated the convenient option of paying a standard daily gratuity rate in one lump sum at the end of the week. The cruise personnel were courteous and prompt, present when needed, but not overbearing. Our room was made up every day as well as freshened up at night, complete with chocolates and a detailed schedule of the next day's activities and events. Every night, the staff created a different ornamental creature: I cannot even imagine how long it took to make all of those towel animals!
Our Room
Suzanne was able to find a Level 3 accessible room on the Nieuw Amsterdam, and fortunately, it was the same price as an inside room. We especially loved that we could always had a view of the sea through our window. As no one could look in from the outside, we left the curtains open all night so that we could see the water as soon as we opened our eyes in the morning.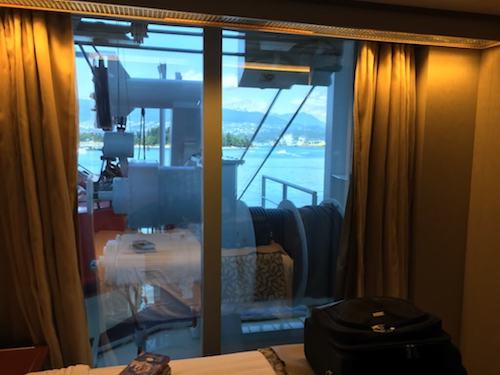 Food and Wardrobe

We loved the 24/7 room service, at no extra cost. We could have had fruit in the room as well, but we missed reading about that option until we were ready to leave.
Except for an occasional purchased snack, we only used the food and beverage options included in our fares. The self-serve buffet had the tastiest food, but we always ate our evening meal in the more formal dining room – for the experience. Those who know me best know that I like to be served!
We had the option to sit with other passengers at the same table every night, but we chose to sit by ourselves. Dress was comfortable and ranged from casual to semi-formal on two dress-up nights.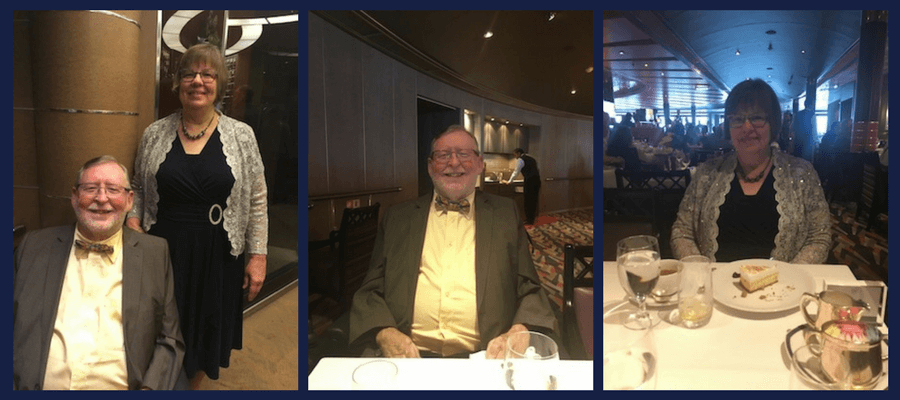 Onboard Activities

The trip was a nice balance of sailing and sight-seeing. We relaxed on the ship for most of the week, but had a reprieve from sailing every second day in a port.
Onboard classes and activities were available all day long, but since resting was our main priority, we mostly slept and read. My one regret is not attending one of the cooking classes run by America's Test Kitchen, just in case Cliff ever stops cooking for me. In the evenings, we concert-hopped in the various venues, and wandered into some tasteful comedy shows.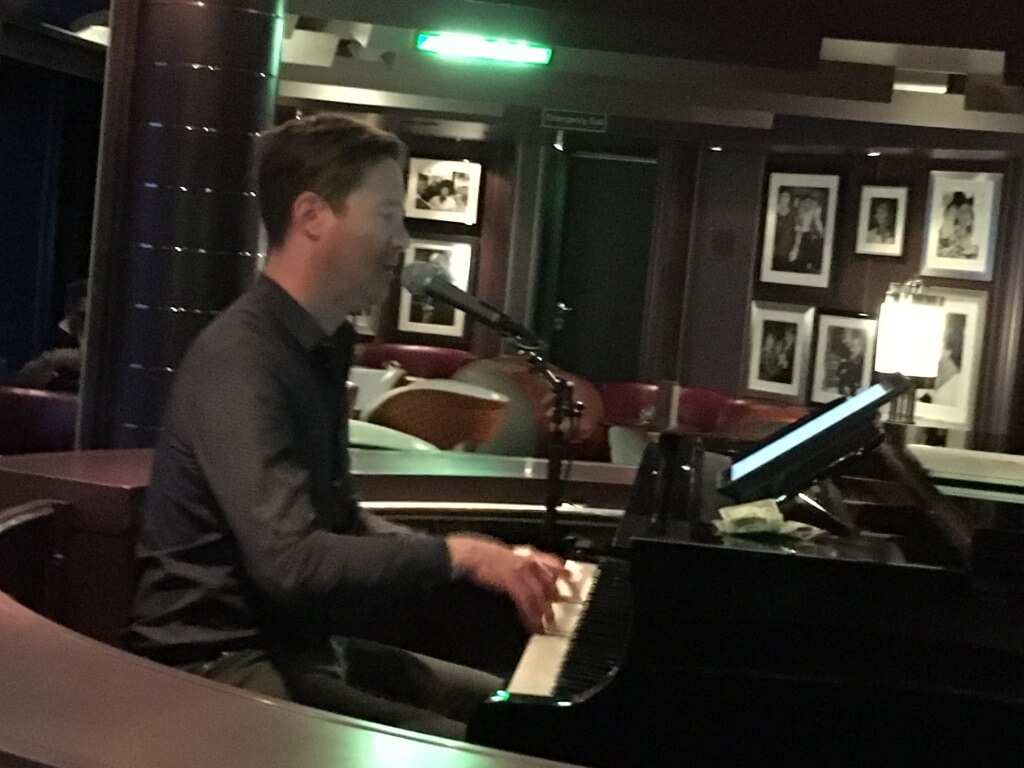 Excursions in Ports

The harbour waters were deep, so the cruise ship could anchor right at the shore. Consequently, it was not necessary to board a tender (smaller boat) to get to shore, which would have been impossible with Cliff's heavy wheelchair. We only had to walk a short distance to reach the tour bus stops, train station, shops and restaurants.
We purchased two less expensive historical informative excursions: gold panning in Juneau and an historical train ride in Skagway to the White Pass Summit. Numerous other sight-seeing trips were offered, varying in price and levels of activity: adventure challenges, sports, fishing, and entertainment. Some passengers boarded or debarked enroute as they combined the cruise with a land tour of Yukon and Alaska.
Photos
We could have had our pictures taken at every new activity or event: boarding, dress-up nights, and stops at ports. We avoided all of these opportunites, fearing that we would be obligated or pressured to purchase. We were wrong, as we found out towards the end of the week when we finally posed for some photographs. The proofs were simply put on display and we could then decide whether or not to buy: we chose a small package that included both hard and digital copies.
My favourite is the photo of my husband. Even though Cliff pulled up in a wheelchair, I loved that the photographer could imagine Cliff standing in such a dapper pose.
Weather
The climate was on the cloudy, cool side. We had a couple of days of intermittent light rain, but at least I did not have to endure Cliff complaining about the heat. The gigantic mosquitoes Cliff feared never appeared: I do not think we even saw one!
Accessibility
Even though parking was pricey, we chose to park at the Canada Place port so that Cliff could drive his wheelchair directly from our vehicle on to the cruise ship. We appreciated being fast-tracked through the long boarding lines.
The ship met all of our accessibility needs and Cliff was able to drive to almost every area on the ship due to the multiple elevators and ramps. Our room had extra hand rails and a walk-in shower. The doors were wide enough to accomodate the wheelchair and Cliff was able to fully extend his legs to get in and out of bed.
Although Cliff is able to walk short distances, he used the wheelchair onboard due to the slight swaying motion. I was grateful that we had the electric wheelchair as I would not have been able to push Cliff through the tricky exit doors to the deck or up the steep ramps; besides, Cliff does not like my wheelchair driving.
Happiness Points
Unlike the game of Life, going on a cruise does not actually buy Happiness Points. However, a cruise can be a wonderful experience if one has a grateful spirit and a love of nature and people.
I believe Cliff and I had extra strength and patience for the busy months following our trip because of the rest and uninterrupted time together on the Alaskan cruise. Now, I'm dreaming of cruising again, but if finances or health prevent further cruises, I will always be grateful for our one week of luxury on the sea.
---
Make sure to read the complete travel series:
FROM VACATION WARS TO CRUISING ALASKA

When Time Stopped, the Music Started
---
SHARE THIS: