"How long before Mom kills this one?" my children predict, more than ask, every time I bring home a plant.  My husband and daughter-in-law chime in their agreement.
I laugh to myself.  I'm not sure that it matters, as plants are cheap.  Their survival is not as important as the colour and design of the pots, the contours of the leaf shapes, and the vibrancy of the flower hues – in the rare event that one of my plants actually blooms.  If one dies, I replace it as I would a broken dish.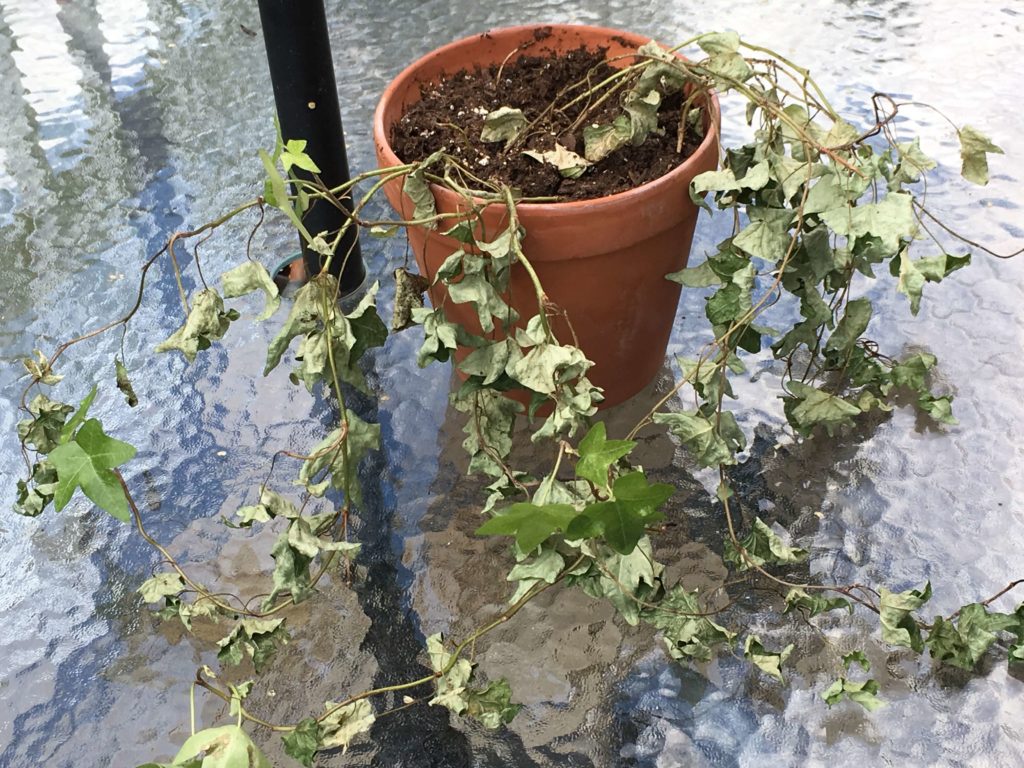 I am not attached to plants like my house cleaner, Angelica.  She talks to my plant victims and apologizes for my neglect. If a plant is unresponsive or dying, I give it to her.  After a few weeks, she shows me pictures of the now-humongous plant with gorgeous blooms.  Oh well, I think. The plant would not fit in its pot, anyway.
When my daughter, Julia, was growing up, I would let her pick out plants for her room.  Under my tutelage, she would choose one for its visual attractiveness and how it would match the room colour.  If the plant died, I just bought her a new cheap one, always of the smallest size, since my budget had to withstand many plant purchases.
Julia now has her own home and has discovered that her mother never knew anything about horticulture.  Ruth, my son-in-law's mother, has blown my cover.  She is teaching my daughter to consider such boring factors as the type of soil, time and quantity of sunlight, and when and how to water the plant.  Apparently, even the pot size matters.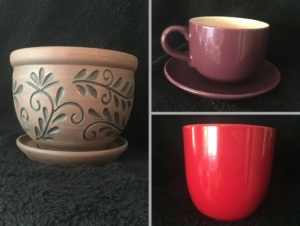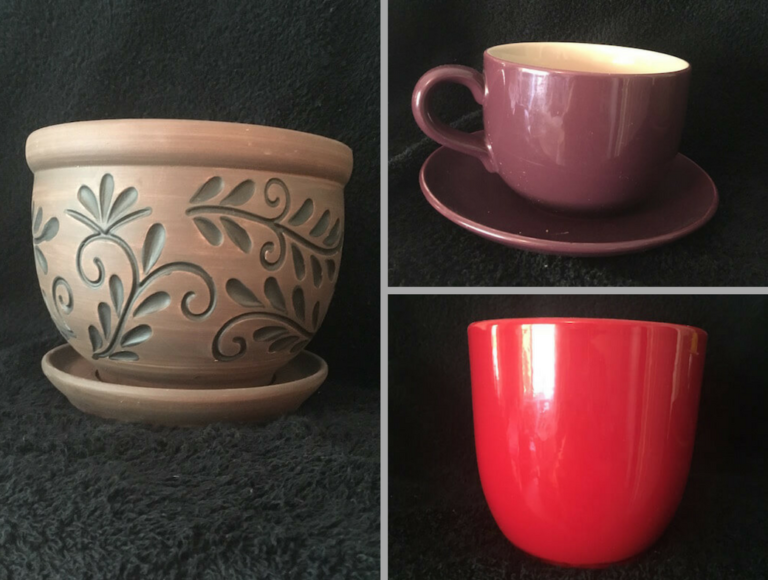 Too many things to think about, in my opinion.  It is so much easier to just consider how the plant foliage will look next to the colour of the pot.
No wonder none of my plants survived.  I placed them in rooms where they looked best and didn't worry about sunlight.  I gave them a good dousing when I thought of it or happened to notice their wilted appearance.  Unfortunately, I often forgot to look, especially during the first three months of my pregnancies when I absolutely did not think about feeding greenery when I myself could barely drink tea or eat crackers.  All plants needed replacing.
When we moved to our current residence, I decided to cease my growing efforts.  I gave all of my plants to Angelica and successfully kept my house plant-free for over a year.  Then I read on facebook that we would sleep better if we had certain oxygen-emitting plants in our bedroom.
I dutifully traipsed off to Rona to buy these supposedly insomnia-healing plants.  The clerk, probably thinking that I had failed high school biology, patiently explained to me that ALL plants give out oxygen, not just the five facebook recommends.  But I persisted, and purchased four of the five suggested specimens – with plant pots to match.  I resisted the rest of the colourful displays until a cute cactus with bright yellow blooms caught my eye, reminding me of my father's love for both cacti and the colour yellow.  Four plants became five.
My family did not admire the plants, not even the sentimental purchase, but rather engaged in another round of mockery in the game of How Long Will These Last?  They did not have to wait long, for one soon to show signs of dying.
For Mother's Day, my daughter offered to help me weed and plant the small flowerbed under my front window. I politely tried to distract her from this line of thought, hoping to avoid another plant disaster, but she persisted.  I finally gave in, knowing that I needed help, given my questionable skill level with dirt and living plant organisms.
My artistic side wanted to immediately shop for new plants, but Julia wisely insisted that we needed to weed first.

The flower bed was a disaster, in the same state as when we purchased the house.

Two huge rocks, a profusion of weeds,

two stone ladybugs, renamed Poop by my grandson,

and one lone plant, awkardly placed – a bleeding heart.
Amazingly, I actually knew the name of this plant.  My grandmother, Julia, (also my daughter's namesake), grew this perennial.  I remember her telling me the legend of the bleeding heart as she pulled the flower apart, showing me the bunnies, earrings, slippers, sword, and stabbed heart.  I will forever treasure the precious times sitting beside my grandmother, feeling her love and affirmation in those suspended-in-time moments, as she retold the same story over and over.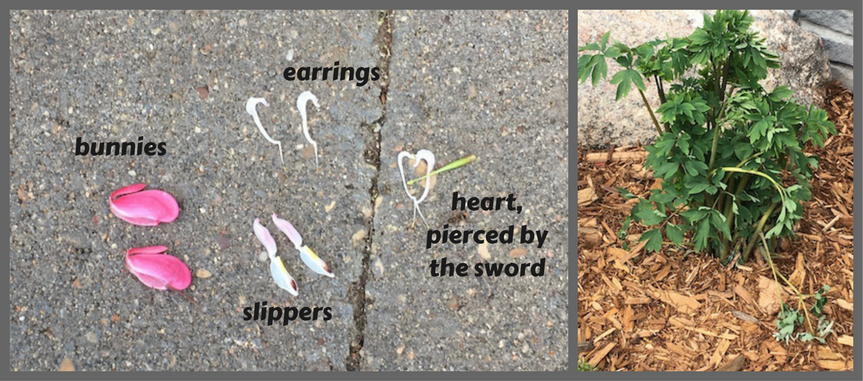 For those memories, I had to keep this plant and so ruthlessly transplanted it to a better spot, figuring that any plant called a bleeding heart could survive being cut off at the roots.
My daughter does not think it will survive, but if it is still alive next summer, she will buy me dinner.
As usual, most of the remaining plant choices were for their design
and colour scheme of white, pink, and periwinkle blue with a splash of yellow.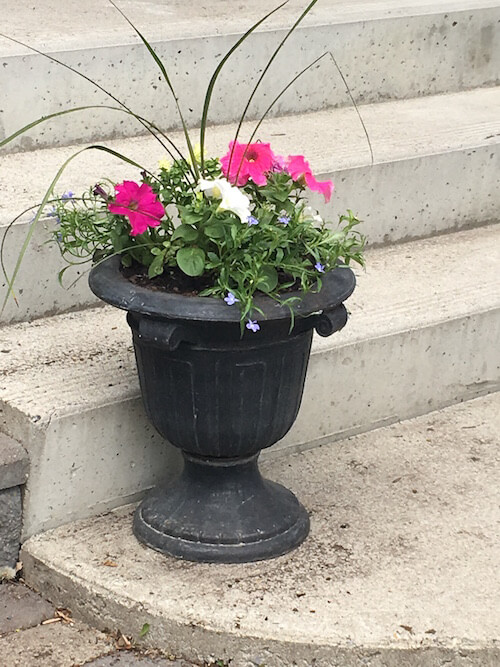 Some made the cut for sentimental reasons.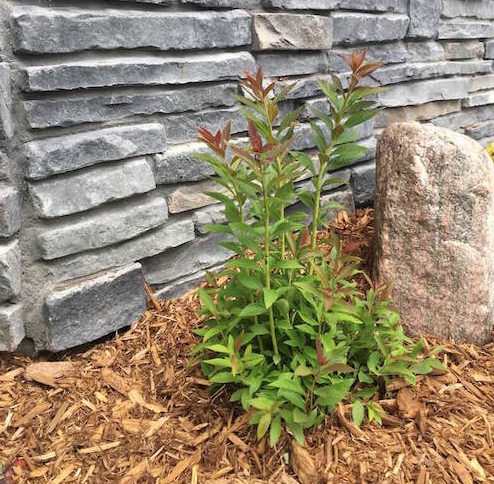 Spirea
I partially chose this shrub as I had grown it with modest success in a more northern climate, but mostly because it reminded me of my wonderful Aunty Betty who once had a lovely profusion of spireas by her front walkway.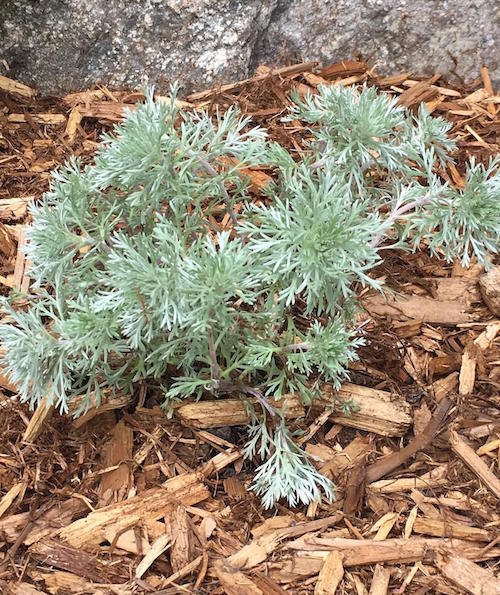 Silver Mound

My cousin, Sherry, is a successful gardener, despite our shared gene pool.  Ever since she told me how much she loved her Silver Mound, I try to plant one everywhere I live.  She told me that no matter how you damage it, it will always grow back to a round shape.  We'll see.  My daughter is doubtful.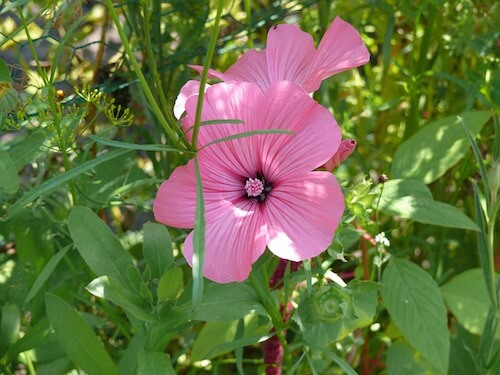 The Toilet Flower

Actually, this is not its real name, but it was the only name I could remember at the nursery.
I had seen this beautiful flower some years ago at the home of a family friend, Margaret.  She told me that if I could not remember the name of the plant, lavatera, to think of lavaratory or toilet. Unfortunately, the only word I could tell the saleslady was toilet. She showed me every pink annual in the store, but the toilet flower connection was not found.  I went home without the plant.
Next time, I will repeat the name all the way to the store:  lavatera, lavaratory, lavatera, lavaratory, lavatera.
I hate to admit that this is a true story!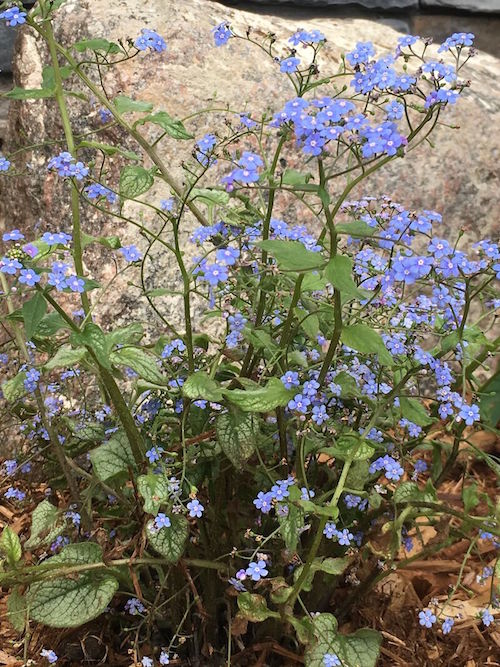 Jack Frost, but I call it a Forget-Me-Not

As I recall, my Dad loved forget-me-nots.  My Mom had a forget-me-not china tea set – because Dad liked them, she told me.  In any case, I like the periwinkle flowers, and will think of my father every time I look at them.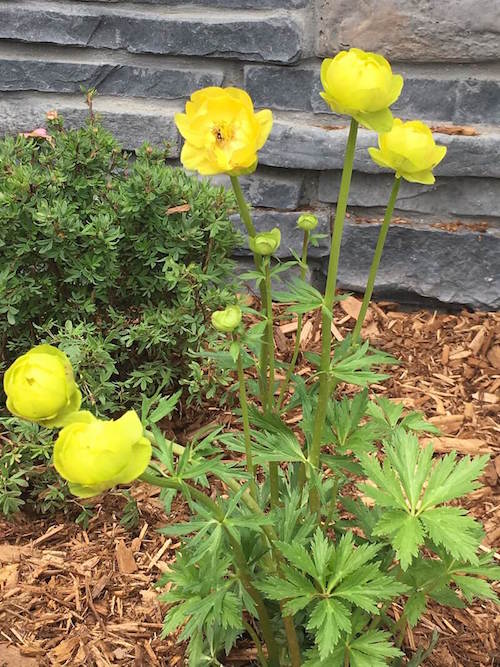 Nameless Plant – My Substitute Rose Bush

For my father, who loved yellow roses

Actually, yellow was the only colour he could easily recognize, due to his colour blindness.  He failed Kindergarten because he coloured tree branches brown and tree trunks green.  Too bad the teacher did not notice that his suns were always coloured yellow.
A few years before he died, he commented that he recognized how much I loved colour:  this meant a lot to me, since he saw colours differently than most.  He deserves yellow flowers in his honour.
For my mother, who loved roses, especially red ones, and could grow them anywhere

I admit, the flowers are not red, and they are not roses, but I am not foolish enough to attempt to grow roses – of any colour.  The yellow flowers on the nameless pseudo-rose plant will have to do as stand-ins for red in honour of my mom.
*     *     *     *     *
It was a good day.
My daughter and I bumbled along together, guessing at how deep to dig the holes, how much water to use, and how to follow the instructions to massage the roots. With high hopes for success, we randomly sprinkled bone meal and mixed soils with varying degrees of proportion.
I named the first two shrubs Betty and Betsy. My daughter said that I couldn't use alliteration and so named the third Caroline.
Mostly, we giggled at my lack of skill and knowledge. She laughed when I told her that I had considered marrying a farmer and that a higher power had saved me from such a disaster, knowing that I would be better suited to managing unruly students in a classroom than rampant weeds in a vegetable garden.  My daughter said she was happy for the said farmer.
We laughed as we threw newspaper on the ground and covered it with mulch because the internet said we could.  We disagreed amicably and proudly viewed our work.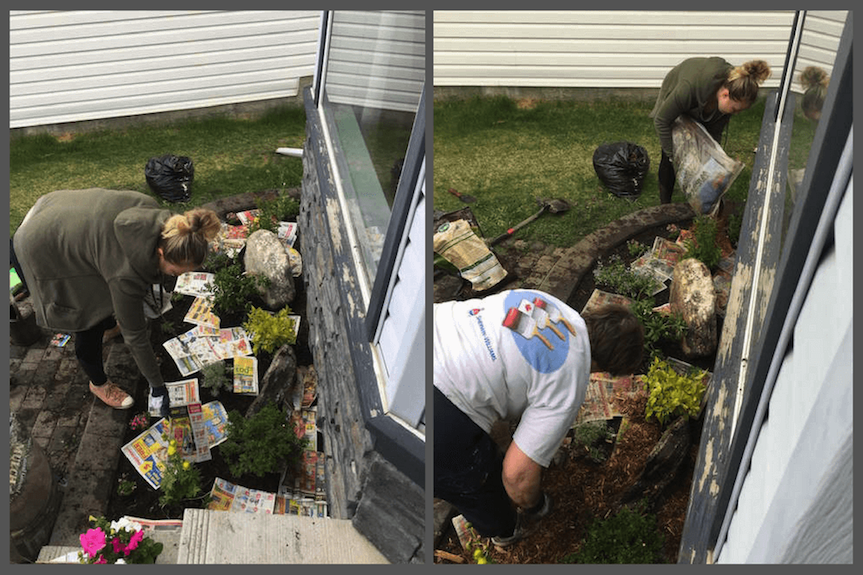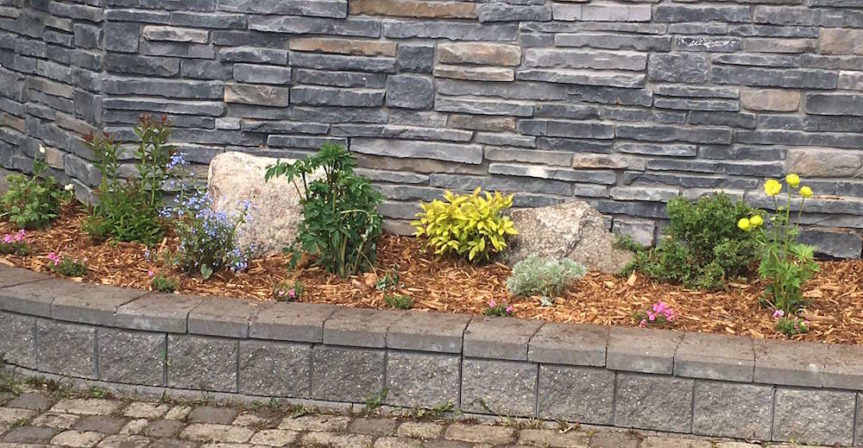 *     *     *     *     *
Not all of our days have been so.
Somewhere, starting in the preteen years, the arguments outnumbered the good times.
Pictures of family events do not always evoke pleasant memories.
Thankfully, my daughter and I are finding a new rhythm in our relationship.
Hurting hearts lie mostly buried and new growth is emerging as we share experiences of marriage and motherhood,
preferring the safety of common ground to unpacking potentially explosive landmines of the past.
*     *     *     *     *
New pictures of family are emerging…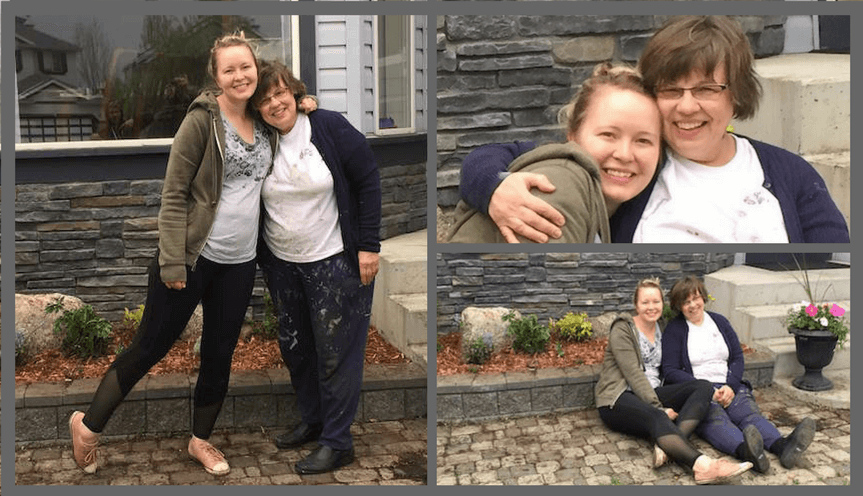 My daughter and I in front of my new beautiful flower bed with all of its colour and variegated foliage.
I treasure the memories this day symbolizes, of easy mother-daughter banter and the sounds of Julia singing "Sweet Caroline".
Other Thoughtful and Symbolical Mother's Day Gifts from my Family…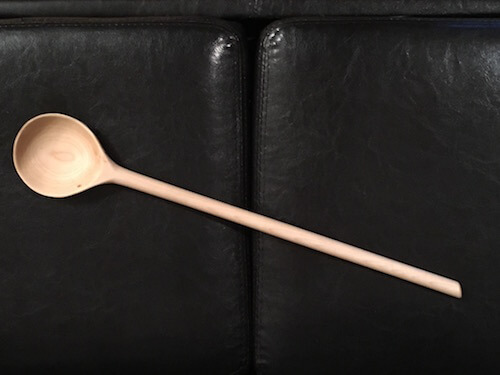 A hand-carved wooden spoon made by my son-in-law, Jeremy @Lotholz and Company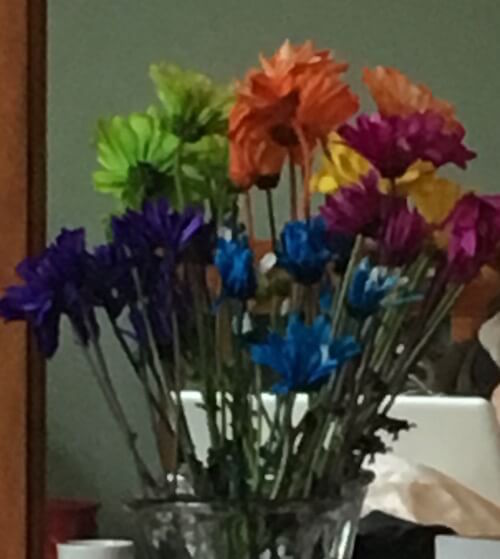 Multi-coloured daisies from my husband, Cliff, each colour representing a different season in our marriage.
His message in my Mother's Day card was appropriate for this as yet unwritten article:  You ground me.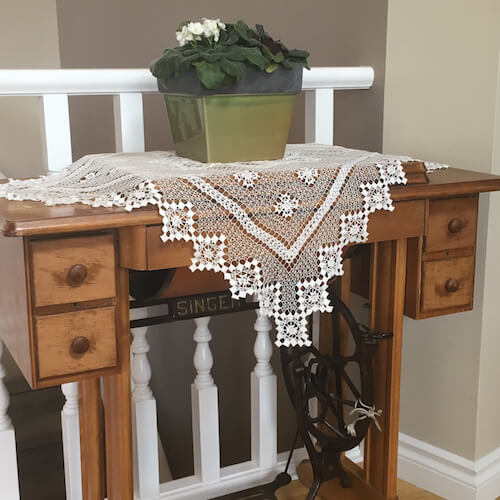 An African Violet from my daughter-in-law, Breanna,
displayed on my Grandma Ida's sewing machine,
well-used in days gone by.

Breanna had no idea how much my mother loved African Violets.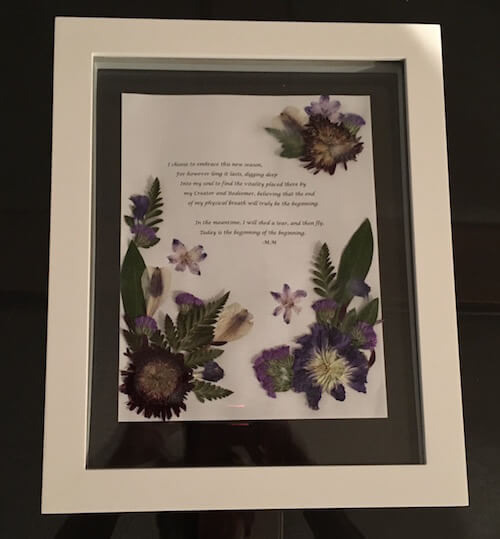 A framed picture from my son, Stephen, and his wife, Breanna.
To make this beautiful keepsake, Breanna used dried flowers from a birthday bouquet from my siblings and a quote from my blog.
My son, Stephen, and I are taking our relationship to a new level as he repairs our basement and edits my blog.
Grandchildren…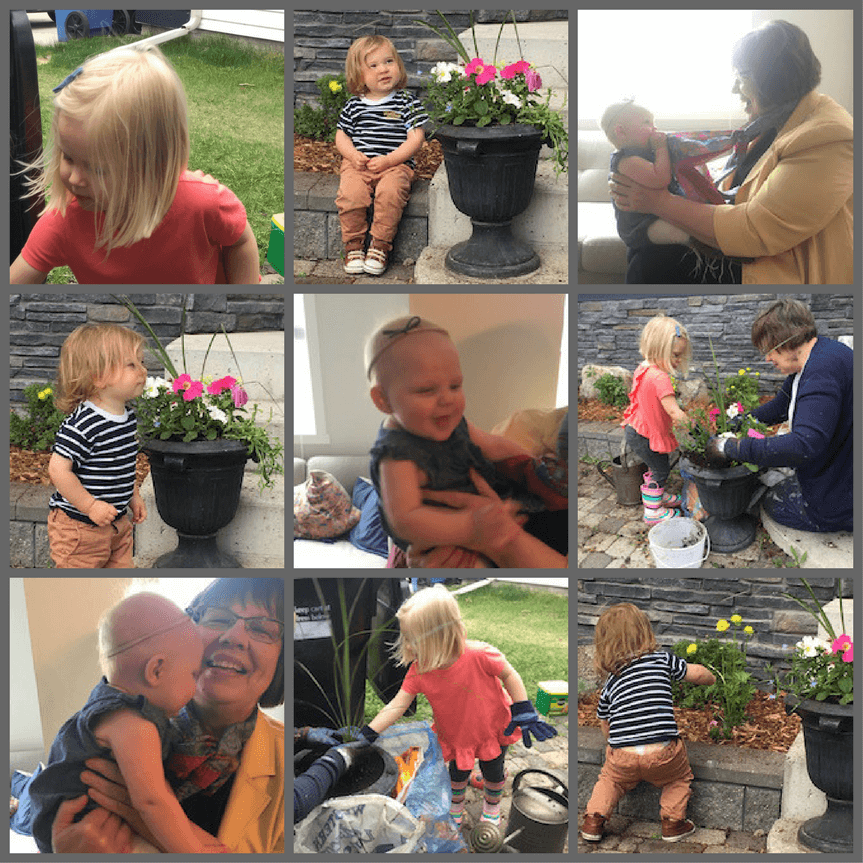 … sharing the scents and blooms of the fresh growth.
I am grateful for the opportunity for forming new family relationships.
A Rose-growing Challenge…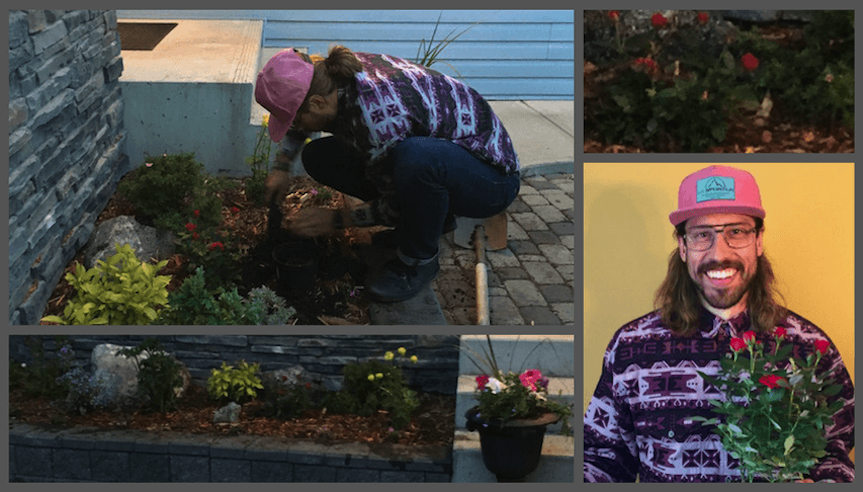 A  red rose bush from my son, Michael, in honour of his grandmother and me, his mother.

My relationship with my son, Michael, is marked by elements of unpredictability and the unexpected.
Once, before he could even talk, I asked him for a kiss, but he kissed the wall instead.
I love the times when he surprises me with a symphony concert or a rafting trip.
Today, as I watch him plant the roses, I celebrate the past, present, and future of family.
While I wonder how to cope with the inescapable challenge of growing these red blooms,

I embrace the pain and struggle of nurturing both roses and relationships.
*     *     *     *     *
Meanwhile, the jury is still out on the bleeding heart's survival,
but it is showing new buds and flowers, boding well for the future.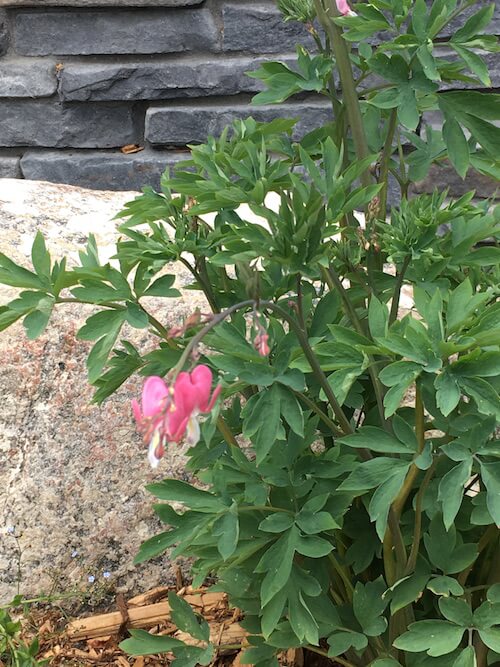 Perhaps human bleeding hearts can also survive – and even bloom.
---
POSTSCRIPT
I just saw a facebook post about six plants that repel mosquitoes.
Tempting...

---
PHOTO CREDITS:

lavatera:  pixabay.com
Save
Save
Save
Save
Save
Save
Save
Save
Save
Save
Save
Save
Save
Save
Save
Save
Save
Save
Save
Save
Save
Save
Save
Save
Save
Save
Save
Save
Save
Save
Save
Save
Save
Save
Save
Save
Save
Save
Save
Save
Save
Save
Save
Save
Save
Save
Save
Save
Save
Save
Save
Save
Save
Save
Save
Save
Save
Save
Save
Save
Save
Save
Save
Save
Save
Save
Save
Save
Save
Save
Save
Save
Save
Save
Save
Save
Save
Save
Save
Save
Save
Save
Save
Save
Save
Save
Save
Save
Save
Save
Save
Save
Save
Save
Save
Save
Save
Save
Save
Save
Save
Save
Save
Save
Save
Save
Save
Save
Save
Save
Save
Save
Save
Save
Save
Save
Save
Save
Save
Save
Save
Save
Save
Save
Save
Save
Save
Save
Save
Save
Save
Save
Save
Save
Save
Save
Save
Save
Save
Save
Save
Save
Save
Save
Save
Save
Save
Save
Save
Save
Save
Save
Save
Save
Save
Save
Save
Save
Save
Save
Save
Save
Save
Save
Save
Save
Save
Save
Save
Save
Save
Save
Save
Save
Save
Save
Save
Save
Save
Save
Save
Save
Save
Save
Save
Save
Save
Save
Save
Save
Save
Save
Save
Save
Save
Save
Save
Save
Save
Save
Save
Save
Save
Save
Save
Save
Save
Save
Save
Save
Save
Save
Save
Save
Save
Save
Save
Save
Save
Save
Save
Save
Save
Save
Save
Save
Save
Save
Save
Save
Save
Save
Save
Save
Save
Save
Save
Save
Save
Save
Save
Save
Save
Save
Save
Save
Save
Save
Save
Save
Save
Save
Save
Save
Save
Save
Save
Save
Save
Save
Save
Save
Save
Save
Save
Save
Save
Save
Save
Save
Save
Save
Save
Save
Save
Save
Save
Save
Save
Save
Save
Save
Save
Save
Save
Save
Save
Save
Save
Save
Save
SHARE THIS: