Nobody told me about the elevator mats on a cruise ship.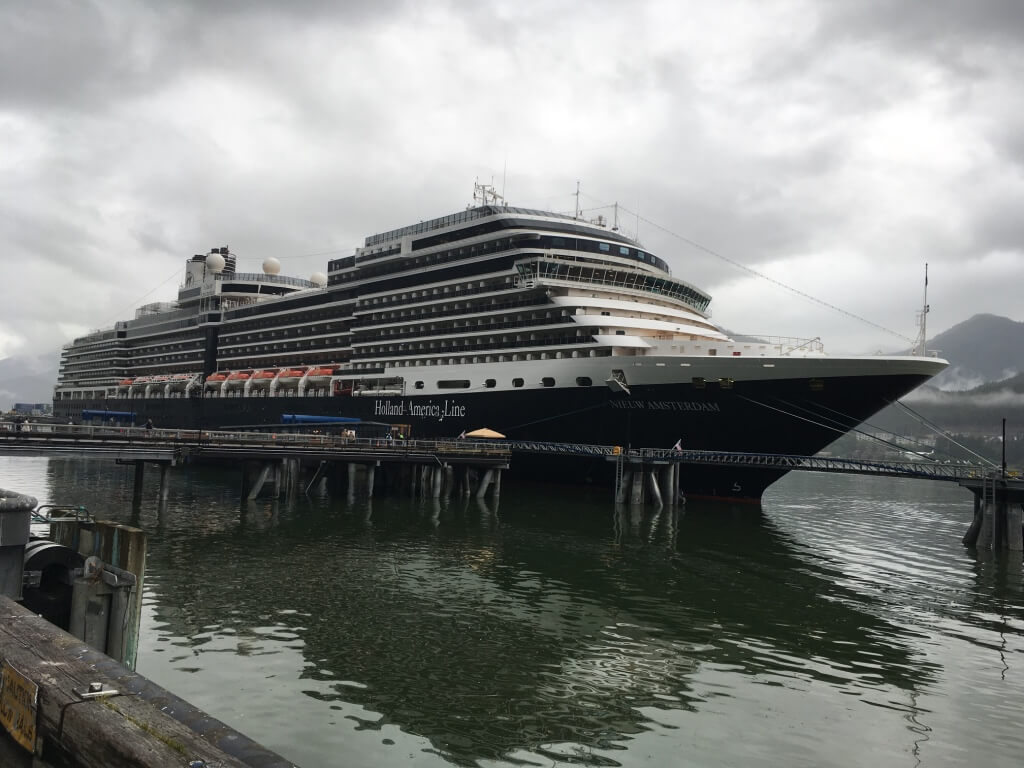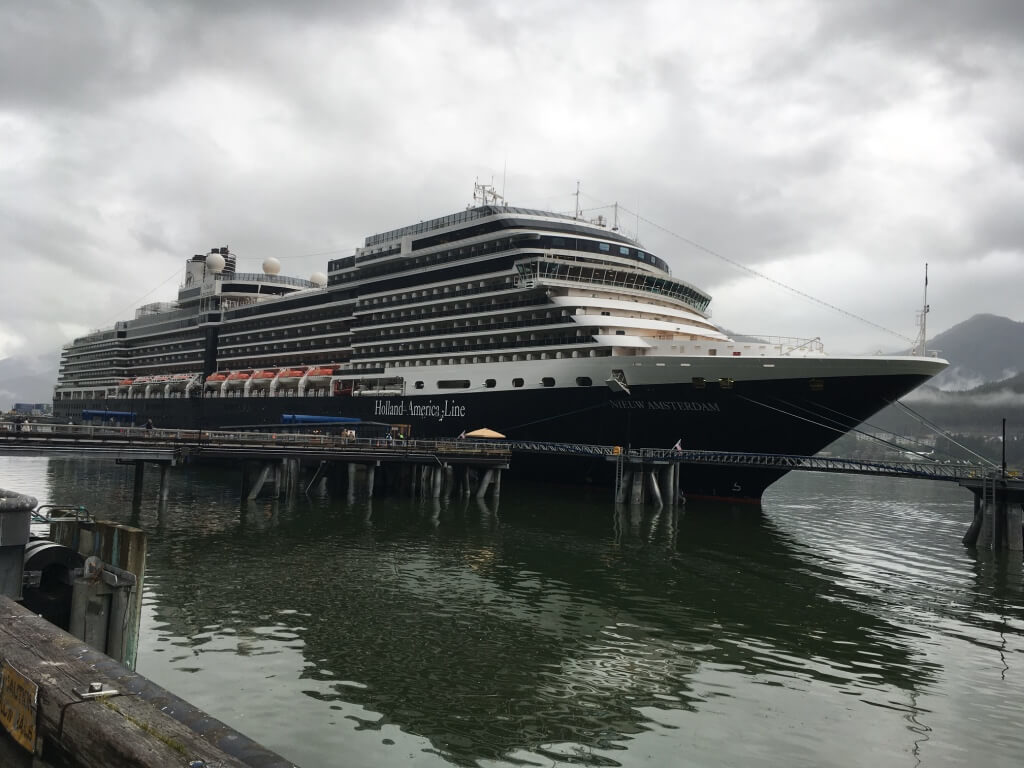 Perhaps it was felt that the mats were too nondescript to be of any consequence, and certainly not the vivid Persian carpets one might expect, given the elegant décor on the rest of the ship. Instead, the floor inserts were made of ordinary blue carpet emblazoned with the current day of the week in huge gold letters, possibly in an 840 size Times New Roman font.
This omission of information about the cruise carpets was likely due to the many other topics deemed to be of greater import for first-time cruisers: exciting day excursions, varied onboard activities, expected attire, and never-ending food options. In any case, not one person mentioned that I would need an elevator mat to inform me of the day of the week.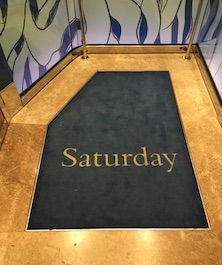 After several days of shopping, packing, and rushing to get to the port in time, my husband, Cliff, and I boarded the Nieuw Amsterdam – on a Saturday. We were well aware of the name of that day, and found it a bit odd and rather unnecessary that every single elevator had Saturday imprinted on the floor mat.
We wondered if the mats would be changed for Sunday. Sure enough, all fourteen elevators had Sunday carpets by the next morning.
The weekday mats were even changed in our four favourite smaller elevators with glass floor-to-ceiling walls that traversed several stories on the outside of the ship.
At first, I wondered if cruise clientele typically required such basic reminders of the day of the week, but by Monday I understood. Life's pace had changed.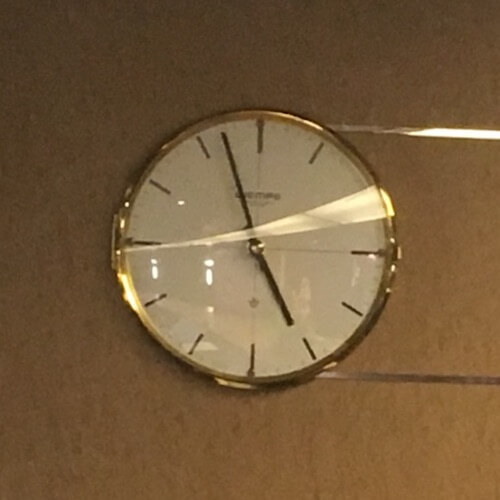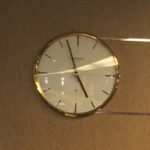 Our cell phones, normally the prime informers of date and time, were turned off to avoid prohibitive roaming charges on international waters. The huge ship was devoid of clocks, except for one small eight-inch circle of metal and glass that hung somewhat forlornly at the front desk on the main floor, out of the way of most of our comings and goings.
Although we intermittently checked the TV for the time, we gradually found a life rhythm not governed by a clock. Our meal times were prompted by our appetites rather than by the time of day. We slept when we were tired, and took little note of the fleeting darkness that marked the end of one day and the beginning of the next. We started riding up and down those glass elevators just because we could and had no reason to rush anywhere.
Moments turned into minutes and unknowingly passed into days.
Thankfully, the fourteen elevator mats were always in place, ushering in each new day with its own rite of passage as the crew faithfully rotated the ninety-eight mats through their seven-day cycle. Soon, however, even the day of the week on the floor mats lost significance as we slid up and down the ocean vessel in the glass elevators, mesmerized by the stunning views of the ever-changing water and the BC and Alaska coastlines.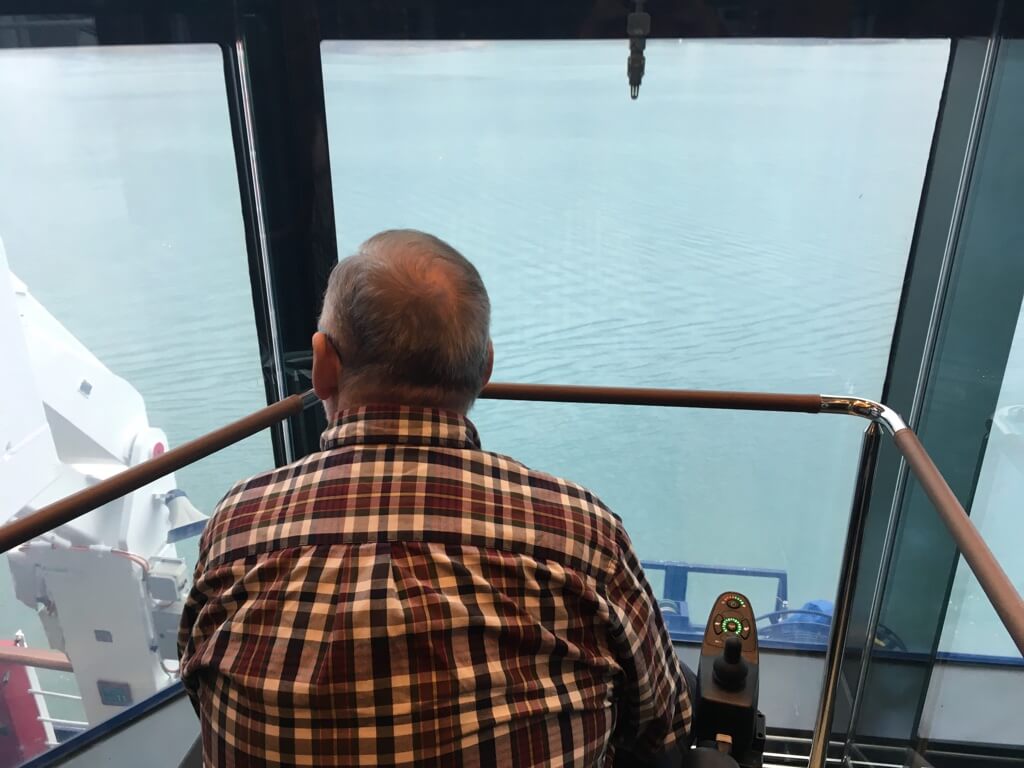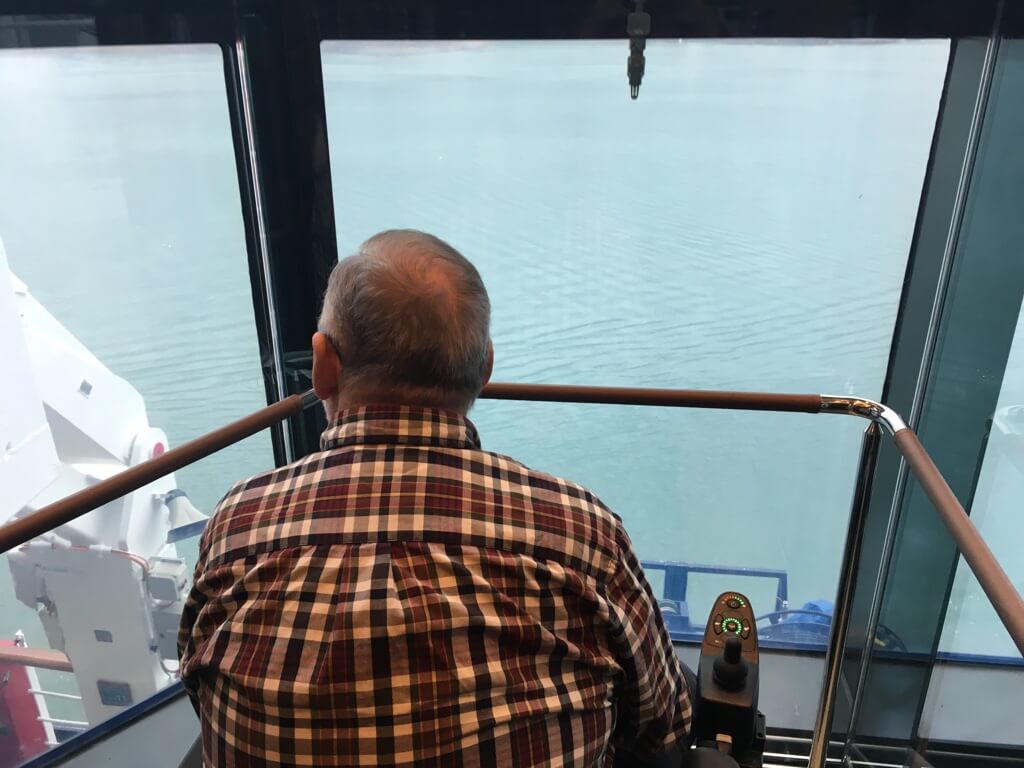 Time had stopped.
Ironically, with the clock no longer holding us hostage, we had more hours to meander about the ship and stare at the endless sea.
Most importantly, we had time to listen to music.
For me, this was an anomaly. Although I might be considered by some to be a professional musician, my husband is always astounded that I rarely listen to music. In part, I find music recordings distracting as I automatically analyze the instrumentation, quality of the composition, and musicality of the performers. Most of all, I usually find that technology takes out the highs and lows of the music and lessens the emotional impact of the performances.
I do love live music, however. Cliff, my husband and music soul mate, shares this love and we enjoy all music styles when performed well. Unfortunately, work schedules and financial constraints usually prevent any sort of regular concert attendance.
One year we decided to change this pattern by planning ahead so that we would attend three concerts during the school year. We even prepaid the tickets so that we would be sure to make time for this entertainment.
The first concert was supposed to be the fulfillment of my life-long dream to attend a Sing-Along Messiah. Even though I enjoyed trying to sightread my little-used score, the conductor's weak attempts at humour interjected between each number prevented any deep emotional reaction. My imagined solemn reflective experience of Handel's masterpiece was ruined.
The second event, a concert by a woodwind jazz quartet touted to be one of the best in the city, was even more regrettable. After frantically unscrambling our complicated schedules, we mostly battled falling asleep as the instrumentalists droned on through the monotonous repertoire with robotic playing.
The third production, a dinner theatre featuring Fiddler on the Roof, was to be an intimate evening filled with romantic memories of our honeymoon when we had first watched this musical.  We often recalled how Cliff had belted out "If I Were A Rich Man" while we strolled across the picturesque stone bridge in Banff, the song being particularly poignant as we could barely afford to share a bowl of soup in the pricey restaurants.
The play was also to be Cliff's payment of dues for missing an opportunity to take me to this play for my birthday some years back.  I often reminded him of this error, so I suspected his reason to take me to this performance might not have been as much motivated by an amorous feeling as an attempt to put an end to my grumbling.  Regardless, I was excited to go an a date with my husband to see Tevye and Golde in action. However, the evening was another disappointment, despite Cliff's good intentions and great company.  A few instrumentalists managed to play reasonably well, but the food was bland and the acting uninspiring.
We never pre-planned our concerts again. We realized that we were usually too exhausted to to enjoy these events in the middle of our hectic schedules, and certainly did not want to spend our precious time listening to lacklustre performances.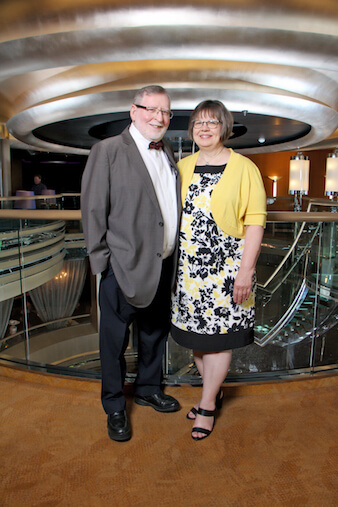 Now, on our Alaskan cruise, we were given a week of "time-staying-still" and found that experiencing the music onboard became our favourite pastime. Well-rested, we were able to listen and absorb the performances of world-class musicians performing in a variety of music genres without the pressure of finding a parking spot or having to think about the extensive to-do lists awaiting us the next morning.
We rotated from one group to the next: The Band, Adagio, and BB King's All Stars. My soul responded to the music, even when surrounded by chit-chat. I applauded as loudly as I could, hoping my enthusiasm would bring balance when I felt the listeners were not sufficiently appreciative of the high calibre of the performing musicians.
At one outstanding presentation, the five members of The Band teamed up with Adagio, a classical piano/violin duo, to provide live music for a BBC Documentary on Alaskan scenery and wildlife.  While the visual effects on the huge screen were breathtaking, I was more captivated by the performers' impeccable precision and the consequent perfect synchronization of the music with the film footage.  I spent most of the thirty minutes straining to see the musicians on the darkened stage.
We almost missed the musical highlight of our cruise.  
We happened to wander into a smaller room in a more remote area of the ship where New Zealander Damian Brell was performing. He sang a variety of styles with an impressive vocal range, and managed to make the mediocre grand piano sound like a great instrument. Even though I knew I was making a spectacle of myself, I could not resist walking up to the piano at one point to get a closer view of his flying fingers, and, amazingly, I could not see which keys he was playing.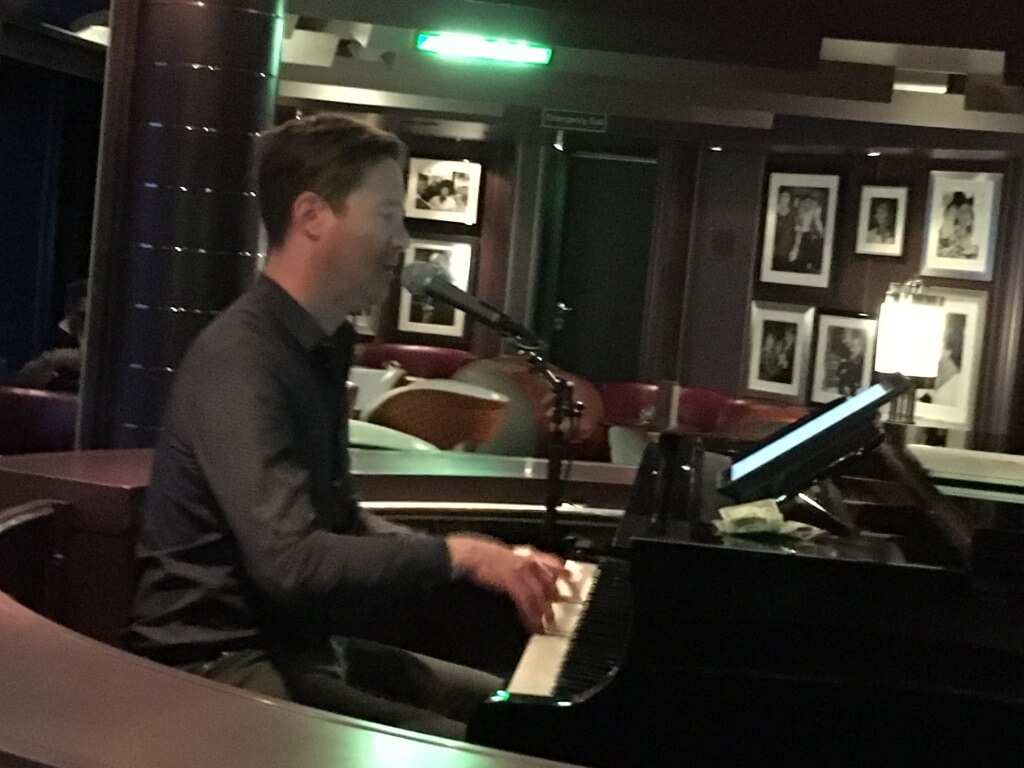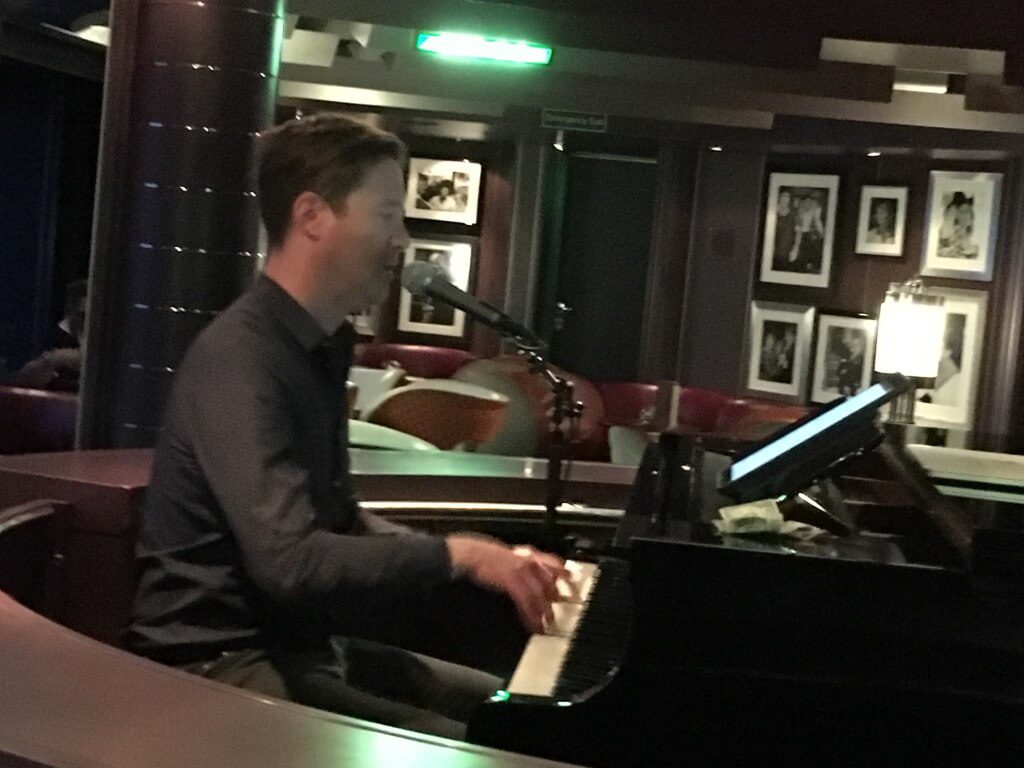 We felt the magic of music that night.

It was not just Damian's musicianship or technical expertise that kept us all in that room. The charged atmosphere was partly due to the intimacy of one person at the piano, singing with a passion that called and asked us to feel the depth of the lyrics and the melodies.  However, it was also the engaged and responsive audience, calling out requests, and sometimes singing along, that completed the circle of the interplay of the musician and listeners. The performance was sincere and the applause heartfelt, and for a brief moment in time, we, earth sojourners gathered from all over the world in that tiny room, had a sense of being one as we allowed the emotion of the music to wash over us.
Only occasionally have I experienced this surreal music magic at a live performance, but when it happens, the sense of connection is so palpable I feel I could reach out and physically touch it. It is not limited to a cruise ship or a concert hall, although it is sometimes found there. It can just as likely be encountered at a family jam session or a campfire sing-a-long, and when it happens, music becomes the instrument that takes us to a deep place of communion that words cannot explain.
The power of music can also be found in silence.
I discovered anew, this mystical music experience without audible sound, on the day we sailed into Glacier Bay National Park and Preserve.
Initially, we were not very interested in this sailing day to view ice and snow in a national park since we had seen many glaciers in our lifetimes. However, the literature and numerous announcements piqued my interest: I was surprised that all ship activities were cancelled for the day, and wondered why we were asked to be quiet as we sailed through the national park.
Eventually, we decided to go outside to see this purported spectacular scenery, and realized that we could never have imagined the indescribable splendour in this piece of Alaska accessible only by sea.  Each glacier had its own rugged characteristics, varied colours, and unique beauty.  When we later joined the crowds on the upper enclosed Promenade Deck, we marvelled at the hushed conversations of the normally boisterous cruise crowd:  the ever-changing views of the the enormous glaciers commanded silence and respect.
Again, I felt that tangible musical atmosphere, but this time the connection was not between a live performer and audience, but me feeling a deep soul-satisfying oneness with nature and my Creator.
Thank you, Holland America and the crew of our ship Nieuw Amsterdam, for a trip without minutes or hours and for the gift of time to hear the beat of music.
Most of all, thank you for putting out the elevator mats.
Otherwise, we might not have known when to get off the ship.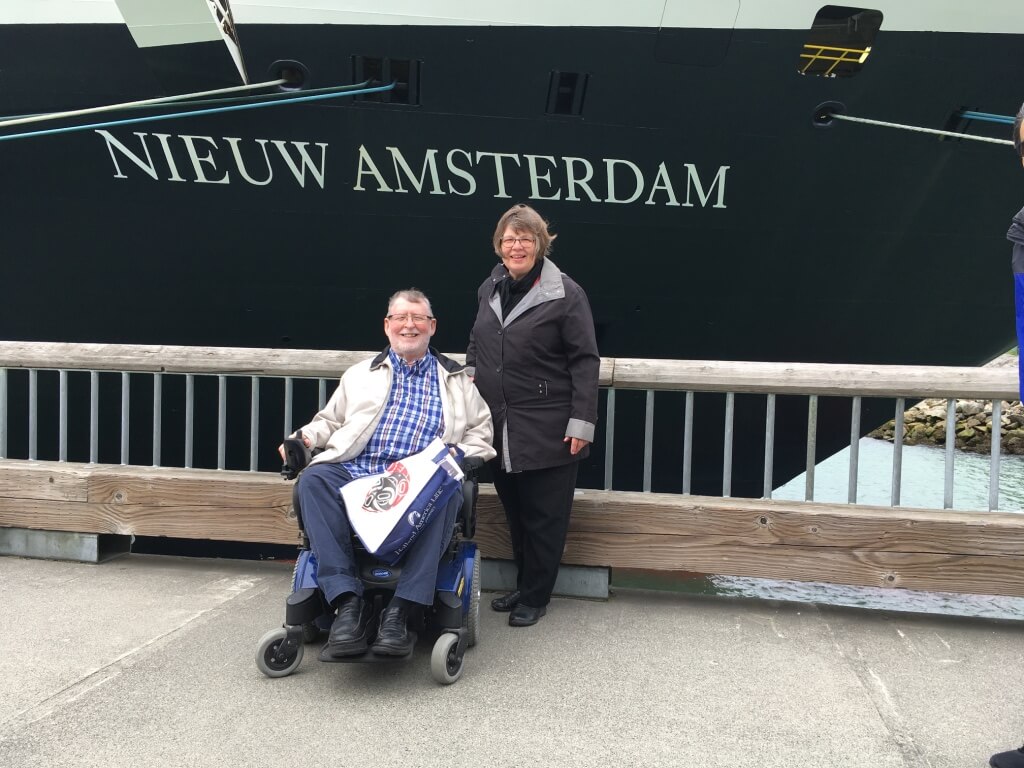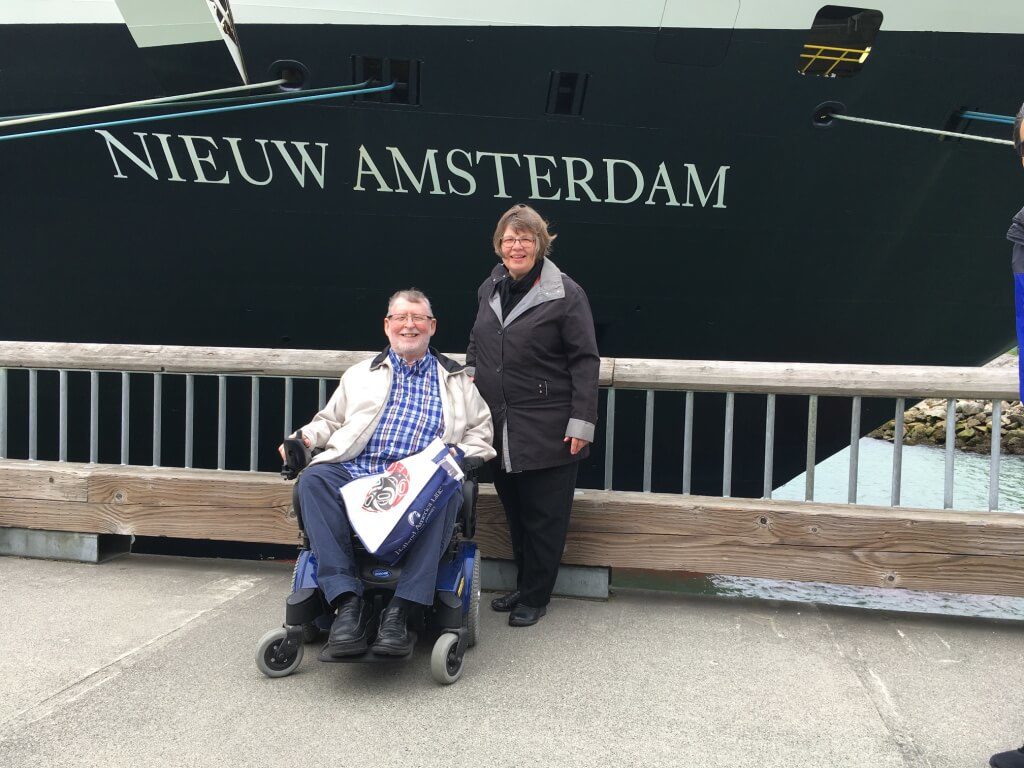 ---
Special thanks to our Travel Agent:  Suzanne Wickenden, [email protected]
---
I sent this article to Damian Brell.  I felt honoured that he replied and gave me permission to share his comments with you:
Hi Marilyn, Thank you for your truly kind, thoughtful and greatly humbling words. I have not read anything that explains my performances with such candour – in fact, everything you wrote has always been of paramount concern to me when I perform, however, it often occurs without my having even realised it. I suppose it might have something to do with switching from conscious realtime into another dimension or mode of subliminal subconsciousness. I'm sure it has been the basis of many a study by musicologists and psychologists! If you don't much mind, I would like to share your words. Once again, thanks for your words, which speak of something I do which is both inherent but perhaps inexplicable. At the very least, I am sincerely gratified to have created a small memory for you and the other people who came to see me. Thank you. Yours truly, Damian
You might wish to check him out on Google!
---
Make sure to read the complete travel series:
FROM VACATION WARS TO CRUISING ALASKA

When Time Stopped, the Music Started
---
SHARE THIS: