A Train Ride, Gold Panning, Seafood, & Glaciers…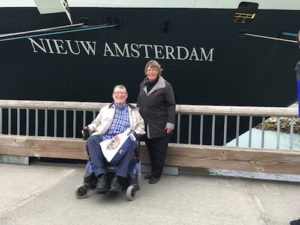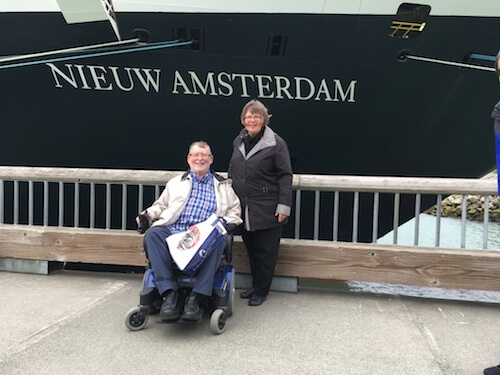 The three port visits and a trip to a national park added just the right amount of diversion and activity to our week of cruising. We visited the ports of Juneau, Skagway, and Ketchikan, all remote but charmingly unique coastal communities. The one-day cruise into the picturesque Glacier Bay National Park and Preserve took us into rugged and unsurpassed scenery.
---
JUNEAU – Gold Panning & Tracy's King Crab Shack



Juneau, we found out, is the capital of Alaska, and is only accessible by sea and air. The population is divided on whether or not a road should be built to connect it by land to the rest of the continent. Bumper stickers apparently express these different sentiments:  "Want more roads?  Move down south!" or "Build the road:  Juneau to Skagway". Fortunately, we did not have to concern ourselves with these political issues and so could concentrate on our task for the day:  Hunt for Gold!
At first, Cliff was adamant he would never be able to pan for gold as he could not crouch down by a river or creek bed with his replaced hips and knees.  We were pleasantly surprised to find an excursion that included bus transportation with a wheelchair lift, a tour of an old gold mine, and panning for gold from a wheelchair.
The mine tour was an easy walk and wheelchair accessible on a wide boardwalk. Since we are history buffs, we enjoyed the tour guide's informative narrative of gold mining history, even though the mine was expectedly a bit dark and damp.
After a short ride to a different historical site and a brief informative talk, we were off to a sand and gravel table to search for real gold flecks. Cliff took his gold panning very seriously, as if he were buying gold stocks on Wall Street. I suspect he might have stayed at the task for several more hours if he did not have to catch a cruise. As it was, he was almost the last to board the tour bus back to Juneau.
We had time to have a snack in Tracy's King Crab Shack, one of the restaurants I had found in my pre-cruise research. The tiny original shack was now a large two-story building that was always packed with customers. For sentiment's sake, we ordered crab, but only one leg due to the cost. It must have been delicious because Cliff devoured it in short order.
Even though our panned gold was valued at less than five dollars, Cliff treated the tiny glass vial with our winnings with utmost care for the remainder of the trip. He stashed the gold in the room safe along with our other valuables such as passports and credit cards. After the cruise it was probably carefully stored in his pocket until we got home and it could be hidden deep in the contents of his sacred drawer that no one dares to touch or inspect!
---
SKAGWAY – Train Ride to White Pass Summit & Skagway Museum
Further inland, Skagway was the only community we visited that had road access in and out of the town. The shops and tourist attractions highlighted the gold rush fever that swept the continent just over one hundred years ago, and we were fascinated to learn more about this era that was birthed more in dreams and visions than actual gold. While many prospectors risked their lives seeking quick fortune and fame, we found it sobering to find out that others were simply striving to support their families during a time of deep economic recession.
We especially enjoyed the story of one entrepeneurial woman, Harriet Pullen, who earned more wealth than many of the gold seekers by selling pies on the trail and running several other businesses to service the thousands of travellers passing through the area.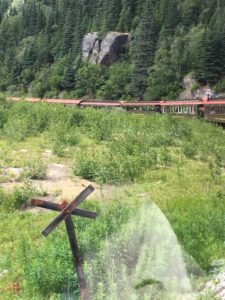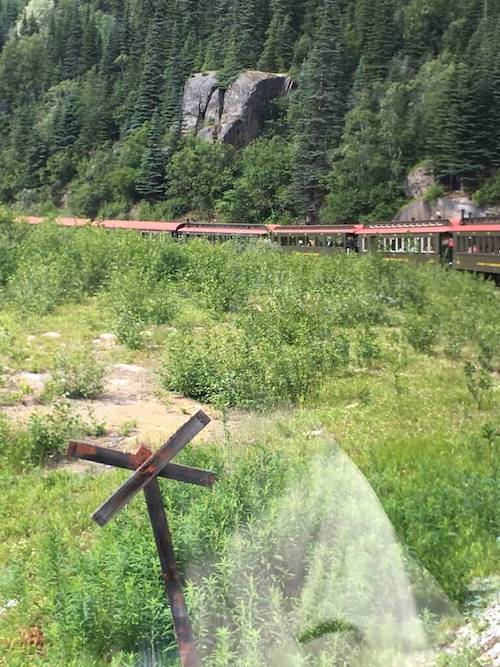 Before the railroad was built, those searching for gold in the Yukon were required to carry one ton of supplies to the North West Mounted Police (NWMP) customs at the British Columbia border, sometimes making several arduous trips to achieve this goal. Miners could either use the treacherous Golden Stairs to the Chilkoot Pass or attempt the equally dangerous route to the White Pass. Sadly, many humans and horses died on these trails.  Eventually, a railroad was built to the White Pass despite the formidable conditions. It was completed in record time by 1899, but by then the gold rush was basically over.
I had wanted to travel this train route ever since I had read about it on a friend's facebook post a few years ago. Back then, I had googled for more information, and when I found out a wheelchair lift was available, I started dreaming that Cliff and I could some day take a cruise to Alaska and go on this rail trip.
Fortunately, tickets were still available, and we were not disappointed as we relived the historical trip on the WP&YR train to the NWMP post at summit of the White Pass. Although the scenery was breathtaking, we were even more captivated by the tragic stories of the events on this trail narrated by the onboard tour guide.
After the train trip, we wandered into the Skagway Museum where we were able to see photos, read quotes, and watch a short video. By the time we went back to the cruise ship, Cliff and I were deeply impacted by the struggle of past generations to survive in this difficult and challenging land that we now could explore from the comfort of rail and cruise ship.
---
KETCHIKAN – Simply Salmon, The Rock, The Alaska Fish House, and Shopping
We chose not to purchase another excursion in Ketchikan, the third port, and so simply strolled around the lovely town. I was excited to find the Simply Salmon shop I had seen online. The Rock statue captured the distinctiveness of the varied characters that had built the Alaskan frontier. As usual, Cliff had to try the seafood at the Alaska Fish House.  After purchasing a few trinkets for our family, we were ready to board the cruise ship, our now-familiar temporary home.

---
GLACIER BAY NATIONAL PARK AND PRESERVE
We were astounded at the varied and picturesque glaciers in the Glacier Bay National Park and Preserve. The vast area of snow, ice, and water is virtually untouched by human activity and is only accessible by sea or air.
On this sailing day, all activities on the cruise ship centered around the glaciers. Rangers from the park office boarded the ship and set up informative displays and answered questions.  Pea soup, a tradition on Dutch cruises, was served free of charge on the Promenade Deck as passengers crowded around the large windows to take photos, watch for wildlife, and observe the ever-changing views of the glaciers. All of the daily events were cancelled, and the atmosphere was hushed and almost reverent.
We

felt

refreshed and peaceful after that day of quiet reflection.
---
The week-long cruise was almost over, and we were increasingly aware that we would soon be plunged back into hectic work and family schedules. However, we felt well-rested and knew the memories of our solo times as well as the fun we had together would help to carry us through the busy times ahead.
My spirit was uplifted
and my soul was grateful for the privilege
of going on this wonderful cruise.
---
If you are interested in an Alaskan cruise, Suzanne Wickenden, our Travel Agent, would be able to help you plan a vacation that suits your interests and budget.  [email protected]
---
Make sure to read the complete travel series:
FROM VACATION WARS TO CRUISING ALASKA

When Time Stopped, the Music Started
---
SHARE THIS: