Today, I thought the ghost of my husband's 1970 Dodge Charger was going to destroy my vehicle.
My car is fairly new. The model, make, and year are not important enough to be recorded; however, the colour is significant. Velvet red, the salesperson told me. I have always loved red, so I ordered it. Apparently, car manufacturers are colour blind, for when it arrived, I found I had spent a lot of money on disappointing maroon.
My first car, a gift from my German grandmother, was also maroon. Even back then, I disliked the hue. The vehicle was nameless because I don't remember models, makes, and years. However, it was useful to me since it had the necessary four wheels. I forgave it for being old and big, and tolerated its costly gas tank and mechanical hiccups. It took me south to college in the States and then north across the continent to my first teaching job, far from any civilization I knew, to a small town in Newfoundland.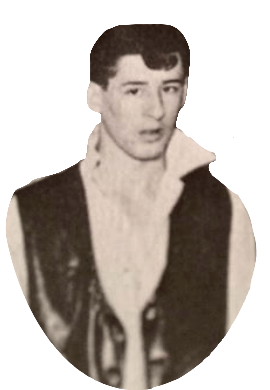 One of the town's most eligible bachelors, appropriately nick-named the Fonz, had a 1970 Dodge Charger. Black, with gold accents, painstakingly repaired and painted, with special tires, apparently, and sidekick thrust mufflers, whatever those are. Everything else he did to it was car speak that I did not understand and did not care to learn. What I do remember is a ridiculously loud car.
Even the dazzling black and gold colour failed to impress me, especially when I heard he hosed it down not once, but twice a day. Many available females in town unabashedly vied for a ride in his chariot, but not me.
I was uninterested and unimpressed, by both the car and its driver.
Ironically, the Fonz wanted to date me, even after finding out I was appalled by the deafening sound of his sidekick thrust mufflers, did not appreciate the beauty of his car's engine, and couldn't care less about the coveted front passenger seat. I thought it was this very indifference that drew the owner of the black Charger to me, the new girl in town. He says he liked my lips and my calves.
I had no intentions of being courted by a twenty-six year old stud
who did not seem to have any intention of committing to any one girl,

and instead relished the attention and adoration of many.
He was not easily deterred.
He started inspecting my inherited car and offered free mechanical help, desperately needed since the car's status often moved from 'barely working' to 'definitely broken'. Since I had little money and substantial student loan debt, I accepted the assistance. I thought I could deflect the man's pointed interest in more than my car.
He was smart, though, and started asking about my feelings and revealing his sensitive side. I saw that he genuinely cared about people, and most of all, he liked my music. Eventually, I became the only female in town who graced the passenger seat in the loud monstrosity he called a car.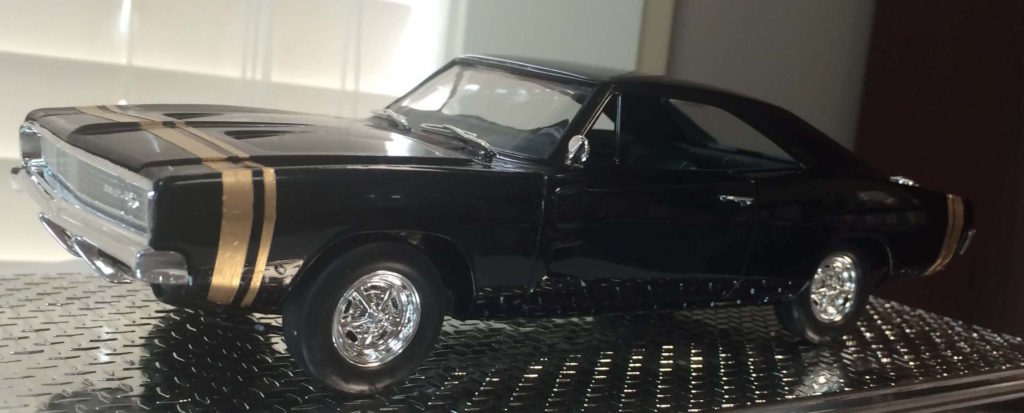 I knew, though, that his attention was divided between his new flame (me) and his first love (his hot-rod). He thought a fun date would be to go to his driveway to wash his beloved charger, together. I emphatically refused! I did not care to give my competition any more attention than absolutely necessary.
Then came that fateful day in our relationship – the day when allegiances would be tested and truth revealed.
After all these years, telling this part of the story accurately is difficult, as our versions of The Event have always differed. Even during editing of this article, intense discussions occurred, complete with accident reconstruction using pens and pieces of paper to represent cars and roads.
He says I backed into the driver's side of his car, destroying it.

I say I only damaged it, just on one side:  he could still drive it, after all.  Besides, with his great sensitivity, he should have noticed I was exhausted.  He should have known I would expect him to wait for me to back out first, like the gentleman he usually was.

He says he was waiting for the traffic to clear.

I say he should have realized I would be too tired to check my rear-view mirror.
In any case, when I backed up, my car ended up inside the charger.
I wasn't sure what to expect, so I put my head on the steering wheel and waited. Somehow I sensed that whatever happened next would determine my future with this man.
He appeared at my car window and told me, not kindly, to get my German tank out of the side of his car. That was all he said. He could have said more, but he did not.
Perhaps Cliff was a keeper.
After I extricated my more-durable vehicle from his charger, he drove away. I use the word drove because there is no word in the English language that can aptly describe the screech of spinning wheels hurtling from side to side and the showers of gravel splattering from the tires. The already loud engine reached a new decibel level and the speed was certainly above the posted limit.
Cliff told me later that he went to an empty parking lot and spun out his frustration doing wheelies.
I thought, "Whatever. It's just a car."

I said, "I'm sorry."
I'm not sure how we made our peace, but the charger was sold for a great loss and we drove my German monster until Cliff could no longer fix the plumes of exhaust that shrouded everyone when we stopped at a red light in an intersection. When pedestrians started holding coats over their heads to avoid breathing in the toxic fumes, we knew that this car, too, needed to go.
After a suitable passage of time, I told Cliff The Event was the only way I could have known that I was more important to him than his black and gold beast.

He replied that he married me in retaliation.

I thought he proposed because he liked my lips and calves.

Whatever the reason, I was twenty-seven and accepted the proposal.
Now, after a lifetime of second-hand and new vehicles, none have managed to hold my husband's heart like his dear Charger.
I think I am forgiven, but I do not feel vindicated. My husband does not understand.
The Charger ghost lives on.
I have tried to pay my debt to Cliff. I have accompanied him to view boring antique car lots and travelled hither and yon to view collectors' cars housed in barns, sheds, and fields.
I even allowed him to restore a car motor: he keeps telling me the model, make and year, but I can never remember. I know it is not a Charger.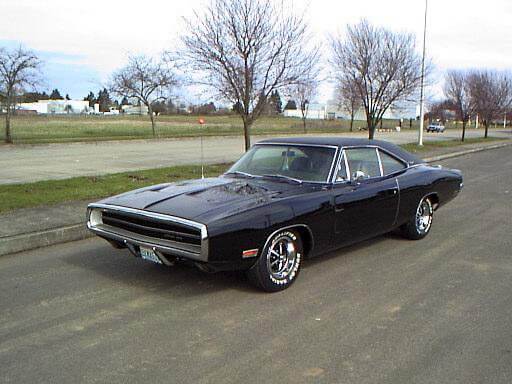 Somewhat patiently, I have endured Cliff's detours so that he could see favourite old cars, sitting forlornly next to wire fences, waiting for someone to restore them to their former glory. Although I am sure he considers buying them all, I know that only one model, make, and year will seriously entice him to spend his money. I secretly breathe a sigh of relief when no 1970 Dodge Charger is found.
Perhaps I will not be free from the burden of the past until our driveway is graced with the presence of a black and gold Charger with sidekick thrust mufflers. I imagine that it would always be on display in the driveway, and that it would get hosed down, not once, or twice – but several times a day.
Today, I forgot that I had parked my new maroon car behind his on the driveway. I feared revenge.
What if my husband was exhausted? What if he was so accustomed to my considerate behaviour of never parking behind him that he would not check his rear-view mirror? What if he thought my car would be in its usual spot, and out of habit, just opened the garage door and backed up into mine?
Would he tell me that it is just a car? Would he inform me that I finally got what I deserved?
It would be too late to remind him. The damage would be done.
I prepared myself, only to find my car perfectly intact.

He said it was nothing to do with sensitivity and everything to do with looking where you are going.
The ghastly ghost of the Charger lives on.

---
POSTSCRIPT
While he was proof-reading this article, I asked Cliff if he thought this article would make people laugh.
He replied that this story was not funny: it wasn't funny then and it isn't funny now.
My kids laughed.  So did I, and I think even Cliff hid a smile.
---
Cliff sent me this picture to make sure all of the readers would know the way his rear-view lights actually looked.
I don't get it.  The car isn't even the same colour.

---
CREDITS
Cliff is actually the co-author of this article. Every time he read it for editing, he would make random comments that were so honest or funny that I had to include them.
Thank you, kids (Stephen and Julia) for helping with the revisions, for it is truly our family story. Sorry you were not around Michael:  you are still welcome to contribute.
Builder of Charger Model:  Darren Scarlett
Photos of Marilyn and Cliff :  JAR Photography
Photos of Red Chevy Impala & Charger that isn't black:  Source Unknown
Cliff as the Fonz:  Charisma Collegiate Yearbook, Springdale, Newfoundland
All Other Photos:  Clifford Newbury
Save
Save
Save
Save
Save
Save
Save
Save
Save
Save
Save
Save
Save
Save
Save
Save
Save
Save
Save
Save
Save
Save
Save
Save
Save
Save
Save
Save
Save
Save
Save
Save
Save
Save
Save
Save
Save
Save
Save
Save
Save
Save
Save
Save
Save
Save
Save
Save
Save
Save
Save
Save
Save
Save
Save
Save
SHARE THIS: